China Post issued a set of six special stamps featuring the Twenty-Four Solar Terms, namely the Beginning of Autumn, the Limit of Heat, White Dew, the Autumnal Equinox, Cold Dew and Frost's Descent, with a denomination of 7.2 yuan (0.055 U.S. dollars), on August 7, 2018.
The Twenty-Four Solar Terms are the knowledge hierarchy and social practice of astronomical phenomena, phenology, seasons and natural changes for Chinese people. The ancient Chinese people divided the track of the annual movement of the sun into 24 equal parts, each of which was a solar term. All of them were collectively referred to as the twenty-four solar terms.
The twenty-four solar terms are not only an important vehicle of Chinese cultural identity, but also a vivid testimony to human cultural diversity. In 2016, the twenty-four solar terms were officially inscribed on the United Nations Educational, Scientific and Cultural Organization's (UNESCO) Representative List of the Intangible Cultural Heritage of Humanity.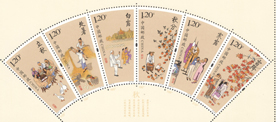 The Beginning of Autumn is the 13th solar term. According to Chinese custom, people usually have more delicious food to pack on a few pounds during this period. Thus, the stamp shows a warm scene where family members sit around a table, enjoying delicacies.
The Limit of Heat is the 14th solar term. Warm days and cool nights are conducive to the growth of crops in this time. Also, people in some areas have begun to harvest. The stamp features farmers taking care of their crops.
White Dew is the 15th solar term. Due to the maximum temperature difference between day and night, it is advisable to exercise sufficiently to keep fit. The stamp displays some elderly persons and children boxing and keeping fit.
The Autumnal Equinox is the 16th solar term. This is when farming activities reach their peak in autumn. At this time, persimmons are ripe in some areas. The stamp depicts an old man leading children to collect persimmons, signifying that everything is safe and sound.
Cold Dew is the 17th solar term. Most areas in China have entered autumn. In people's daily lives, it is common to prepare thick clothes. The stamp displays a tailor custom-making clothes for his customers.
Frost's Descent is the 18th solar term. Maples, yellow oak and other trees begin to turn reddish yellow. Because their color looks like fire, they are very spectacular, inviting people to admire their beauty. In the stamp, visitors are enjoying the red autumn leaves, unwilling to leave.
This set of stamps was designed by member of the China Artists Association Liu Jingui and vice chief designer of the Postage Stamp Printing Bureau (PSPB) of China Post Group Wang Huming, and was printed by the Beijing Stamp Printing House using a heliographic printing process.
Offer for sale: This set of stamps is available at designated postal outlets, the online philatelic shop of China Post (http://jiyou.11185.cn), China Philately mobile client and the China Philately Wechat Mall since they were issued on August 7, 2018. This set of stamps will be sold for six months.