China Post issued a set of one postcard featuring the giant panda along with a postcard stamp with a denomination of 0.8 yuan (0.1166 U.S. dollar) on September 23, 2018.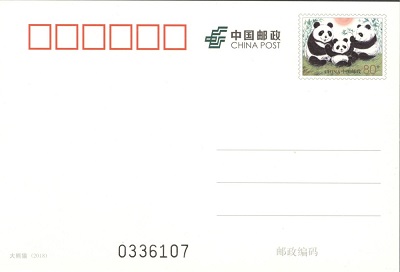 The giant panda belongs to the order Carnivora. It is easily recognized by the large distinctive black patches around its eyes, over the ears, and across its round body.
The giant panda originally ate meat. After evolution, its diet consists of over 99 percent bamboo. Giant pandas have lived on the Earth for at least 8 million years and are endemic to China. Their main habitats are mountainous areas in Sichuan, Shaanxi and Gansu provinces.
According to the third national wild population survey of giant pandas, there are less than 1,600 wild giant pandas in the world, and they belong to China's first-class protected animals. Referred to as a living fossil and China's national treasure, the giant panda is the image ambassador of the World Wide Fund for Nature (WWF) and the flagship species of world biodiversity conservation.
The postcard stamp shows two adult giant pandas and a young giant panda sitting in a bamboo grove against the background of a red sun. The whole picture expresses the concept of warmth.
The postcard was designed by Liu Zhong, director of the China Artists Association, and printed by the Beijing Post Printing House.
Offer for sale: This set of stamps is available at designated postal outlets, the online philatelic shop of China Post (http://jiyou.11185.cn), China Philately mobile client and the China Philately Wechat Mall since they were issued on September 23, 2018.