China Post will issue a set of three commemorative stamps featuring the 60th Anniversary of the Founding of Guangxi Zhuang Autonomous Region, namely Harmonious Homeland, Opening Door and Ecological Blessed Land, with a denomination of 3.6 yuan (0.523 U.S. dollar) on October 18, 2018.
2018 marks the 60th Anniversary of the founding of the Guangxi Zhuang Autonomous Region. Its founding is another milestone in the history of the development of ethnic relations in China and marks a new chapter in the region's history.
In the past 60 years, especially in the past 40 years of reform and opening-up, Guangxi has enjoyed national unity and stability at its borders under the leadership of the Communist Party of China (CPC). People of all ethnic groups in Guangxi live and work in peace. Bathed in the glory of the Party's policy of regional autonomy for ethnic minorities, they have united and struggled for common prosperity and development, made tremendous achievements in economic and social development, and continue to strive for the prosperity of the people and revitalizing Guangxi. Embarking on a new journey, the new Guangxi has entered a new era.
This set of stamps was hand-painted using a computer technique. The first stamp depicts the main building of the Anthropology Museum of Guangxi. Nearby, representatives of the twelve resident ethnic minorities in Guangxi sing and dance in traditional costumes to celebrate the 60th Anniversary of the Founding of the Autonomous Region.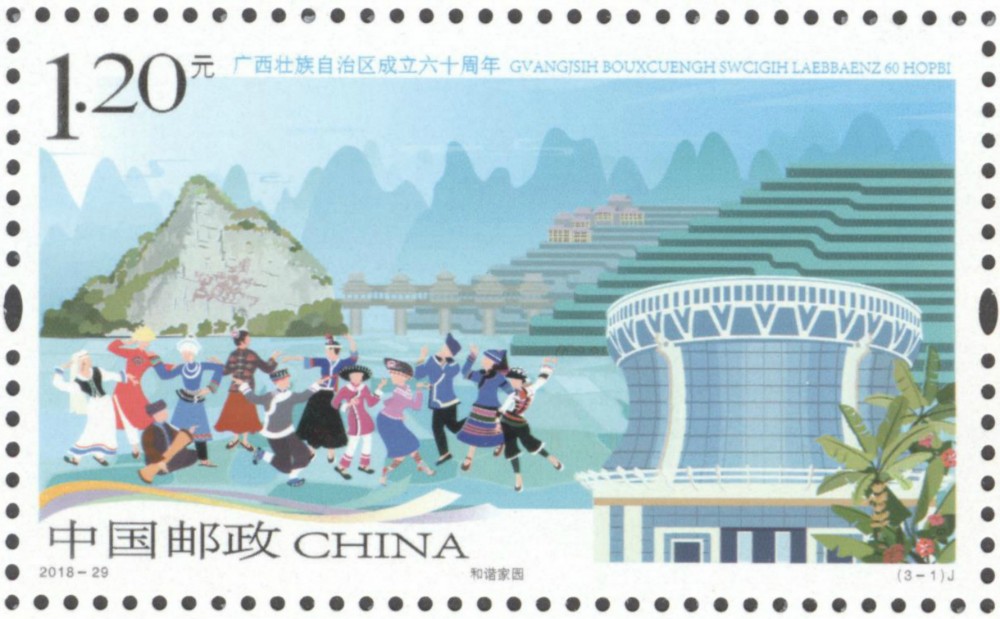 In the center one can see Huashan rock paintings, the Wind and Rain Bridge and Longji Terrace. In the distance are stem-column architecture and undulating hills. The picture composition is scattered, bright and harmonious, creating a warm and festive atmosphere.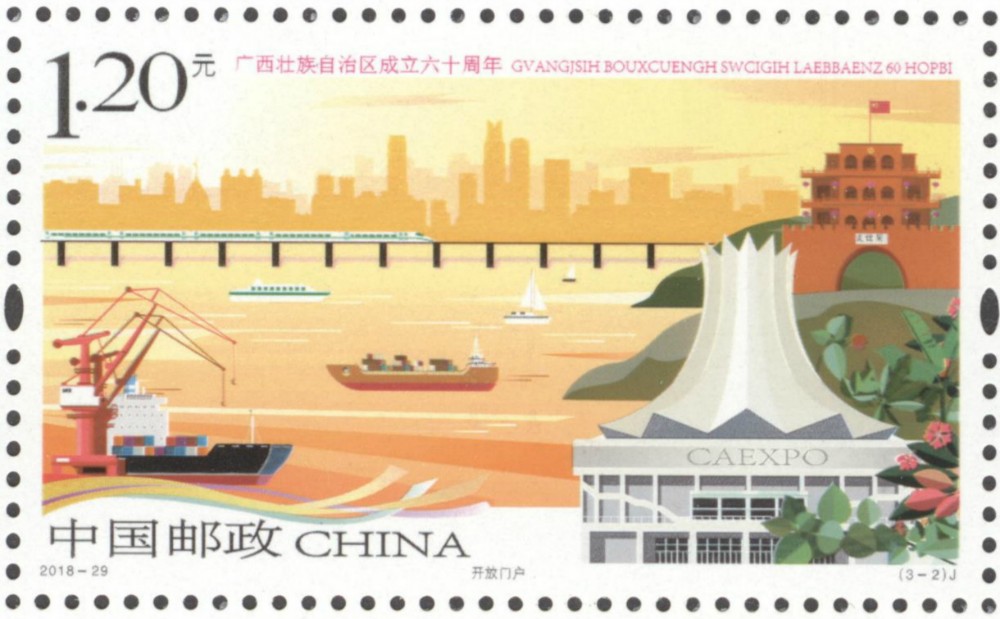 The second stamp features the Nanning International Convention and Exhibition Center, ships and tower cranes. In the center one can see the running high-speed train and the Friendship Pass. In the distance is the architectural complex of the National Nanning-ASEAN Business District, showing the new achievements of Guangxi's economic and social development.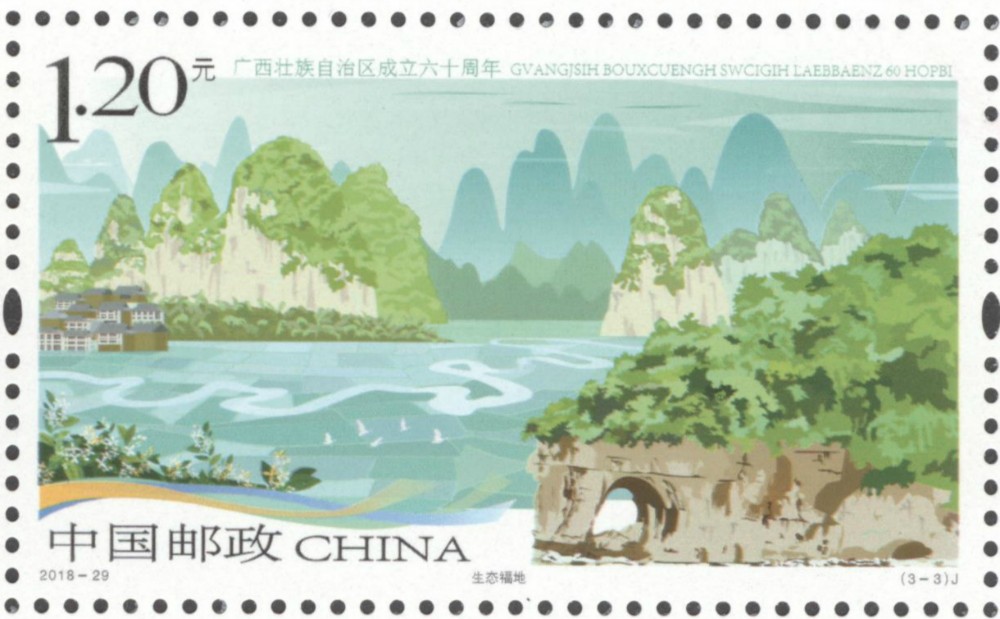 The third stamp shows Guilin Elephant Trunk Hill in the foreground, the Bama Ming River in the middle and the undulating karst landscape in the background. It depicts the beautiful scenery of Guangxi.
This set of stamps was designed by the dean of the Academy of Fine Arts, Minzu University of China, Yin Huili, and Ye Baoyan, and was printed by Beijing Stamp Printing House using a heliographic printing process.
Offer for sale: This set of stamps is available at designated postal outlets, the online philatelic shop of China Post (http://jiyou.11185.cn), China Philately mobile client and the China Philately Wechat Mall since they will be issued on October 18, 2018. This set of stamps will be sold for six months.