China Post will issue a set of one special stamp featuring the Mid-Autumn Festival with a denomination of 1.2 yuan (0.175 U.S. dollars) on September 15, 2018.
The Mid-Autumn Festival is a traditional cultural festival which is popular among many ethnic groups in China and various countries in the Sinosphere.
The "Sinosphere," or "East Asian cultural sphere," refers to a group of countries and regions in East Asia that were historically influenced by the Chinese culture.
The Mid-Autumn Festival falls on the fifteenth day of the eighth month of the lunar calendar and is so named because it falls right in the middle of the three autumn months.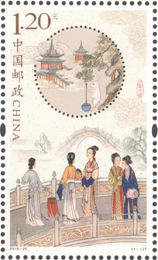 The festival originated in the early Tang Dynasty (618 A.D.— 907 A.D.), prevailed in the Song Dynasty (960 A.D.—1279 A.D.), and has become one of the main Chinese festivals during the Ming and Qing Dynasties, along with the Spring Festival.
Influenced by Chinese culture, the Mid-Autumn Festival is also a traditional festival in in East and Southeast Asia, especially for local Chinese people.
During this festival, the full moon symbolizes the reunion of family members. People usually show their longing for their hometowns and relatives, and pray for a bumper harvest and happiness.
Since ancient times, there have been many colorful and prolonged Mid-Autumn Festival customs, such as offering sacrifices to the moon, admiring the glorious full moon, eating moon cakes, enjoying osmanthus flowers and drinking wine fermented with osmanthus flowers.
In May 2006, the Mid-Autumn Festival was included in UNESCO's Intangible Cultural Heritage List. In 2008, it has been listed as a national public holiday.
This second set of the series of Mid-Autumn Festival stamps also contains the traditional meticulous techniques of the 2016 issue.
The upper half of the stamp features the legend of "The Jade Rabbit Mixing Medicine," which symbolizes health, peace, happiness and longevity; while the lower half depicts the folk custom of "Admiring the Moon during the Mid-Autumn Festival," which symbolizes a happy marriage, childbirth and blessing.
This set of stamps was designed by Executive Vice President of Hebei Academy of Fine Arts Cui Jingzhe, who also designed the special stamps of the 2016 Mid-Autumn Festival, and was printed by Henan Post Printing Factory using an offset printing process.
Offer for sale: This set of stamps is available at designated postal outlets, the online philatelic shop of China Post (http://jiyou.11185.cn), China Philately mobile client and the China Philately Wechat Mall since they will be issued on September 15, 2018. This set of stamps will be sold for six months.