China Post will issue a set of one commemorative stamp featuring the 10th anniversary of the "Three Links," with a denomination of 1.2 yuan (0.1749 U.S. dollars), on November 15, 2018.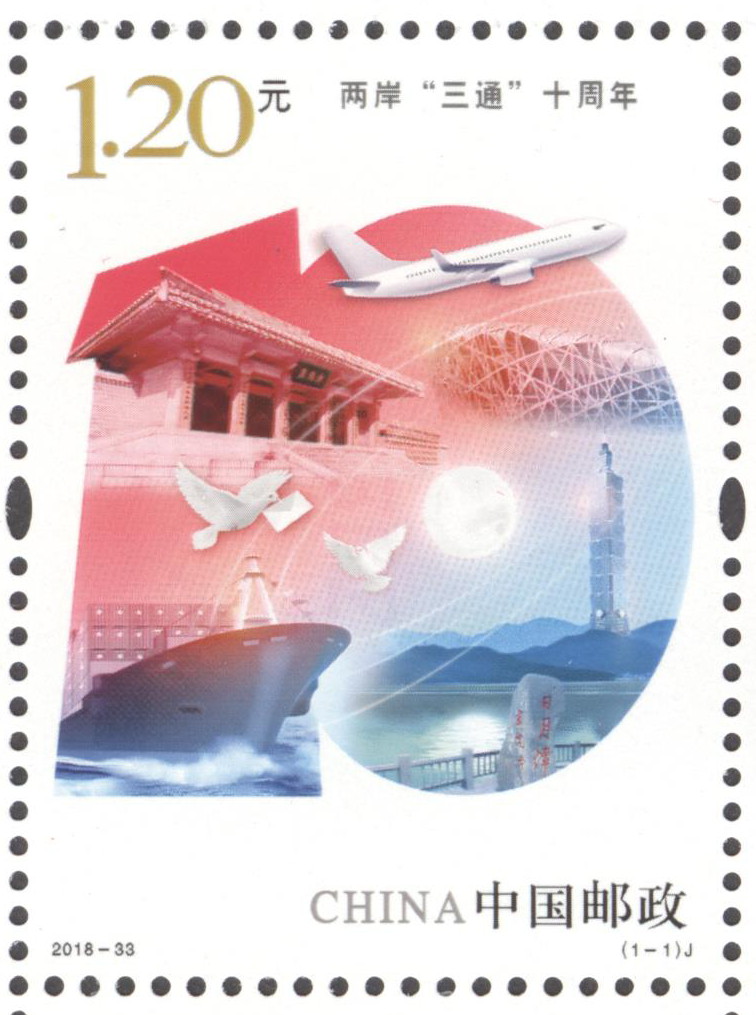 The Three Links or Three Linkages was a 1979 proposal from the National People's Congress of the People's Republic of China (PRC) to open up postal, transportation (especially by air), and trade links between mainland China and Taiwan, with the goal of unifying Mainland China and Taiwan. The "Three Links" were officially established on December 15, 2008, with the commencement of direct flights, shipping and postal services.
The "Three Links" has greatly promoted people-to-people exchanges and cooperation in various fields over the past ten years, strengthened economic and trade relations between Taiwan Province and the mainland, enhanced the well-being of compatriots on both sides, and promoted the process of peaceful development of bilateral relations.
The stamp has a modern feel with its composition and colors. In a field that forms the outline of the number 10 as the basic composition model, the concept of the 10th anniversary is embodied. A bright moon symbolizes the cross-Strait solidarity between people. The Mausoleum of the Yellow Emperor embodies the same origin or common ancestor for people on both sides of the Strait.
Beijing's Bird Nest, Taipei 101 building and Taiwan Sun Moon Lake represent iconic structures of the Chinese mainland and Taiwan respectively.
Peace pigeons, planes and cargo ships represent postal, transportation (especially by air), and trade links between mainland China and Taiwan.
This set of stamps was designed by Zhang Zhiwei and was printed by Beijing Stamp Printing House using a heliographic printing process.
Offer for sale: This set of stamps is available at designated postal outlets, the online philatelic shop of China Post (http://jiyou.11185.cn), China Philately mobile client and the China Philately Wechat Mall since they are issued on December 15, 2018.