China Post will issue a set of one special stamp titled "Conveying New Year's Greetings" with a denomination of 1.2 yuan (0.1751 U.S. dollars) on January 10, 2019.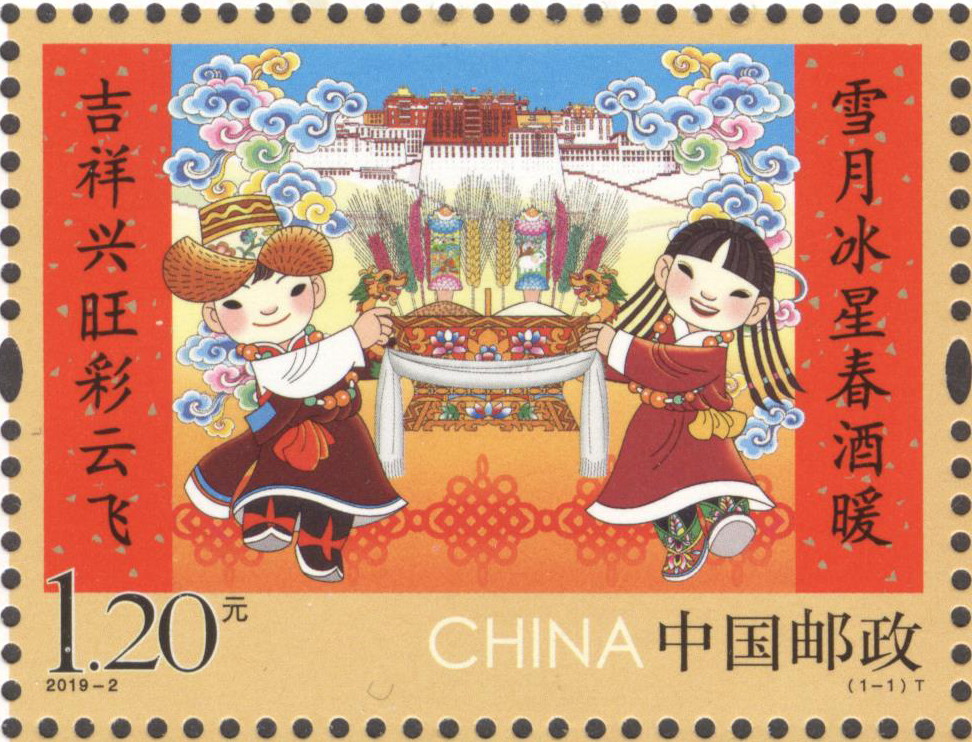 The Spring Festival is the most important traditional festival in the Chinese calendar, and its two themes are bidding farewell to the old and welcoming the arrival of the New Year.
Visiting relatives and friends and posting Spring Festival couplets are part of conveying New Year's Greetings.
This set of stamps is the fifth in a series of stamps titled "Conveying New Year's Greetings." The main image features a boy named Huanhuan and a girl named Xixi against the background of the Potala Palace in Lhasa, Tibet.
Huanhuan and Xixi wear traditional Tibetan costumes and hold a bucket of grain named Chema in Tibetan inhabited areas, a symbol of auspiciousness, to convey New Year's Greetings to the people of all ethnic groups in China.
Next to the image is an antithetical couplet. The whole mood is relaxed and joyful, contributing to the festival's happy atmosphere.
China is a united multi-ethnic country. The design of the stamps continues the creative idea of last year's ethnic elements. It displays the happy life of the people of all nationalities under the leadership of the Communist Party of China (CPC), and building the Chinese Dream together.
This set of stamps was designed by Wu Guanying, a professor at the Academy of Arts & Design, Tsinghua University, and was printed by Shenyang Post Printing Factory using an offset printing process.
Offer for sale: This set of stamps is available at designated postal outlets, the online philatelic shop of China Post (http://jiyou.11185.cn), China Philately mobile client and the China Philately Wechat Mall since they will be issued on January 10, 2019. This set of stamps will be sold for six months.