China Post jointly issued a set of two commemorative stamps featuring the 40th Anniversary of China-Portugal diplomatic relations with Portugal Post, namely Purple Clay Teapot and Silver Teapot, with a denomination of 2.4 yuan (0.354 U.S. dollars), on February 8, 2019.
The bilateral relations between China and Portugal have developed steadily since they established diplomatic relations on February 8, 1979. The two countries have witnessed increased high-level visits, enhanced economic and trade relations and comprehensive cooperation in culture, education and other sectors.
In December 2005, the two countries established a comprehensive strategic partnership. In December 2018, President Xi Jinping was invited to pay a visit to Portugal, which was a great success and has helped the traditional friendly cooperation between China and Portugal reach a new development stage.
The year 2019 marks the 40th anniversary of China-Portugal diplomatic relations. China Post and Portugal Post decided to jointly issue a set of two commemorative stamps for the occasion. This is the second joint issuing of stamps between China and Portugal after they issued special stamps featuring an Ancient Sailing Boat in 2001.
The stamps show teapots with the characteristics of the two countries. The first stamp features China's purple clay teapot and cup, which is a unique pottery handicraft in Yixing, east China's Jiangsu Province.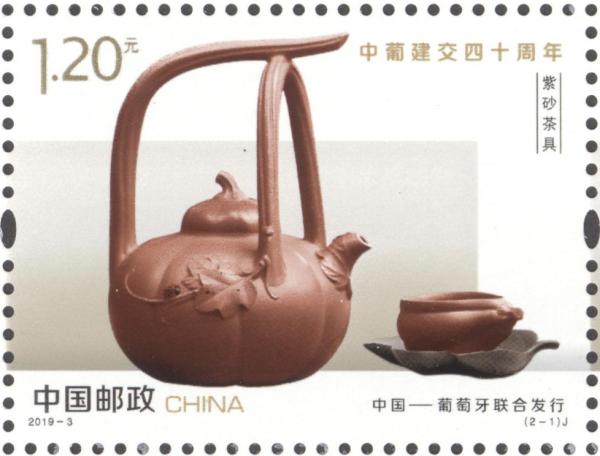 With pumpkin-shaped pot and cane-shaped handle, the purple clay pot on the stamp is beautiful in shape. It is now part of collections at the China Zisha Museum in Yixing. It was produced by Wang Yinxian, a representative of the first group of state-level intangible cultural heritage "Yixing Purple Clay Production Techniques."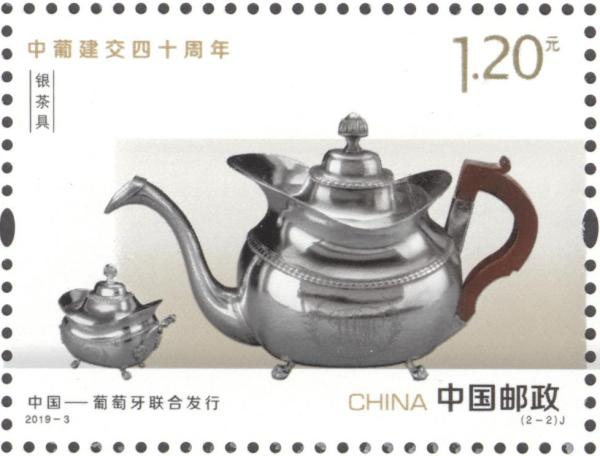 The second stamp features a Portuguese silver teapot and silver sugar bowl. With a decorative pattern, the silver teapot is exquisite in shape. It has four round feet at the bottom and a wooden handle. The teapot was produced in Porto of Portugal in the early 19th century and is now in the Lamego Museum, Portugal.
This set of stamps was designed by Portuguese designer Elizabete Fonseca, and was printed by Beijing Stamp Printing House using a heliographic printing process.