China Post decides to issue a set of two special stamps of Year of Gengzi on January 5th, 2020. The two stamps are named "The Rat Creates Heaven" and "The Rats Herald the Year of Abundance" respectively. The denomination of the stamps is 2.40 yuan.
The year 2020 is the year of Gengzi in the lunar calendar, also known as the Year of Rat by the Chinese zodiac. The rat takes the first place in the twelve zodiac signs. In Chinese zodiac culture, the rat is loved, respected and even worshiped.
The first design of the stamps is named "the rat opens up the sky". It features a lovely rat leaping high, looking to the sky, and trying to bite through the chaos. The design contains in itself a folklore "the rat bites open the sky" while the rat's jumping posture implies a better life in the Year of Rat. The second design is named "rats prelude a bumper year". On the design, two adult rats together with a cute little rat are looking afar, with peanuts around them for good harvest. Their looks are full of joy and complacency. This design implies not only a bumper grain harvest and a happy family life for the year 2020, but also a Chinese saying that rats come with fortune.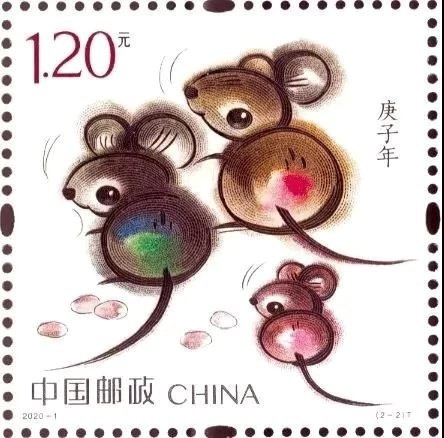 The stamps are designed by the famous artist Mr. Han Meilin. In the printing process of the special stamps, two cutting-edge technologies are adopted: the laser engraving platemaking technology is used for the first time, fully upgrading the engraving precision and manifestation of the details; colorless fluorescent ink is used for the first time, highlighting the effect of the sun leaping above the horizon, presenting vividly the scene of "the rat bites open the sky".