China Post is to issue a set of 2 stamps on May 11, 2020, with two designs respectively entitled Facing Challenges with United Strength and Fighting COVID-19. The denomination of the set of stamps is 2.40 yuan, and the planned circulation is 14.5 million pieces.
This set of stamps is produced in se-tenant style. The Chinese character "众" (meaning "the general public") in the design connects the two stamps closely, implying the massive power gathered by the whole nation in the face of major public health emergencies to fight against the epidemic under the strong leadership of the CPC Central Committee. The graphic design of eliminating COVID-19 is placed under the Chinese character "众" to further enhance the visual effect of winning the war against the epidemic, indicating that the whole nation is united as one with firm determination to fight COVID-19 and has achieved major progress in containing the outbreak.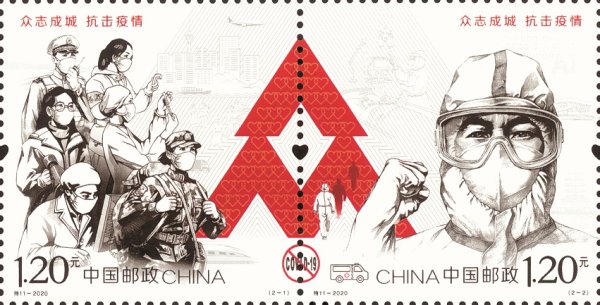 The first design focuses on the collective images of officers and soldiers of the People's Liberation Army, medical workers, scientific researchers, community workers, police officers and volunteers. The background design depicts the scenarios of disease control professionals conducting epidemiological investigation, and volunteers and deliverymen distributing medical supplies and daily necessities. The upper part of the picture outlines urban buildings and rural scenes. The whole design reflects that everyone in either urban or rural areas participates in epidemic prevention and control, and highlights the theme of China's national efforts in defeating the COVID-19 outbreak. At the same time, the design also includes aircraft, ships, trucks, high-speed trains and other elements, showing the touching scenes of people from home and abroad racing against the clock to assist Hubei and Wuhan.
The second design mainly depicts the image of a medical worker with a clenched fist showing resolute determination, with its background featuring the medical treatment scenes, the backs of medical workers heading for the frontline against the virus, and the makeshift hospitals, etc., portraying the noble spirit of the brave and benevolent medical workers throwing themselves into the battle without hesitation, healing the wounded and rescuing the dying. The image of the landmark Yellow Crane Tower in Wuhan shows the great contribution the heroic city of Wuhan has made during the outbreak, indicating "If Wuhan wins, Hubei wins. If Hubei wins, the whole country wins." The "AI" and other scientific and technological elements in the picture imply the important role of science and technology in epidemic prevention.
The stamps are designed by Wang Huming and Liu Xiangping and printed with photogravure technology by Beijing Stamp Factory.