China Post is to issue a set of 5 commemorative stamps themed Olympic Winter Games Beijing 2022—Ice Sport on November 7, 2020. The designs of the 5 stamps are respectively named as: Short Track Speed Skating, Figure Skating, Speed Skating, Curling and Ice Hockey. The denomination is 6 yuan for the whole set, and the planned circulation is 8.7 million sets for layout 1 and 2 million sets (1 million sheets) for layout 2.
On July 31, 2015, at the 128th International Olympic Committee (IOC) session, Thomas Bach, President of the IOC announced that Beijing has won the bid to host the 2022 Olympic Winter Games. This is the second time that Beijing has been related to the Olympic Games after the 2008 Olympic Games. Therefore, Beijing has become the first city to host both Olympic Summer and Winter Games! Olympic Winter Games Beijing 2022 (Beijing 2022) feature a total of 15 disciplines in 7 sports, including five ice disciplines, namely, Short Track Speed Skating, Figure Skating, Speed Skating, Curling and Ice Hockey.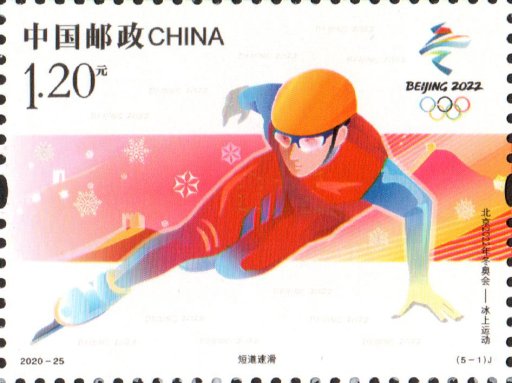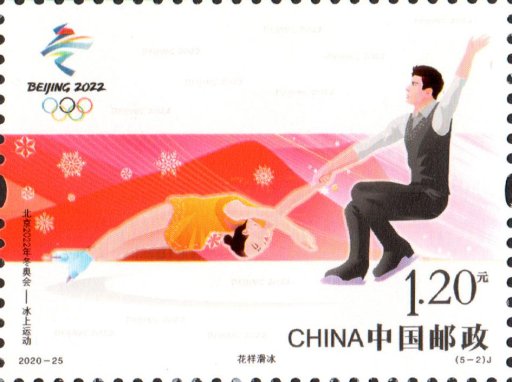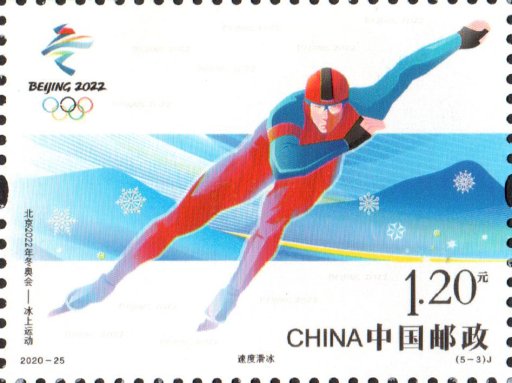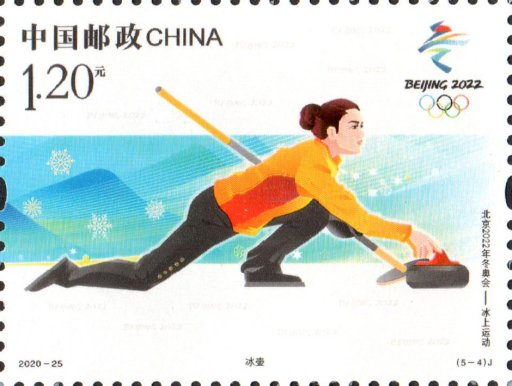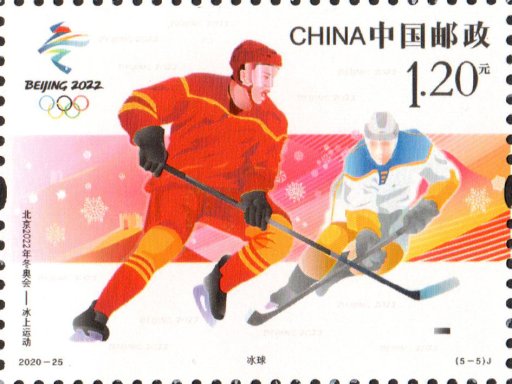 The stamps are designed by Zhang Qiang, with the edging designed by Zhang Qiang and Chen Yijun. The pictures in the stamps are drawn by hand using a computer to present the valiant and heroic bearing of the athletes and their wonderful moments on the ice. The whole picture is bright and full in color, simple and smooth in lines, with the shapes of the athletes full of tension and dynamic, reflecting the beauty of agility and skill, speed and strength of the sports. The background of the pictures is decorated with the core graphics of Beijing 2022, with the five stamps closely connected and a visual effect natural and smooth, thus creating a warm atmosphere of welcoming Beijing 2022.
The stamps are printed by Beijing Stamp Printing House with photogravure technology. The snowflakes on the background printed via special photosensitive ink look glittering and crystal clear, and the words "Beijing 2022" on the edging of the sheet are made via hollow-out technology, which integrates artistic design and anti-counterfeiting function and adds more fun to the stamps. On the edging of the sheet, a QR code is printed, enabling viewers to scan and watch short videos about the five ice events directly through mobile phone.
To present richer contents of the stamps, China Post will release additional digital contents through the WeChat mini program Encyclopedia of China Philately and Stamps, so that viewers can watch the short videos related to these stamps by scanning the designs with the AR function of the mini program.