China Post is to issue a set of 1 commemorative stamp entitled Successful launch of China's first Mars probe Tianwen-1 on September 26, 2020. The design of the stamp is entitled with Successful launch of China's first Mars probe Tianwen-1. The denomination of this set of stamp is 1.20 yuan. The planned circulation is 7.80 million sets.
On July 23, 2020, the Long March 5 carrier rocket launched the Mars probe Tianwen-1 into the Earth-Mars transfer trajectory, successfully starting China's first Mars exploration mission and opening the prelude of China's planetary exploration. Tianwen-1 probe successfully embarks on the journey to Mars, taking the first step in China's planetary exploration, which is also a key step for the Chinese people to move further into deep space.
This set of stamp takes the Tianwen-1 probe as the main body of the picture, showing the process of the Tianwen-1 probe from launch to orbit injection. The background of the picture shows the earth, Mars and galaxies respectively, which implies that, this Mars exploration is just the first step of China's planetary exploration, and that more distant planetary explorations and interplanetary explorations will be carried out in the future.
The stamp is designed by Yu Xue and printed by Beijing Stamp Printing House with the technology of photogravure. This set of stamp uses colorless fluorescence, and the orbit in the picture shows a luminous effect under ultraviolet light.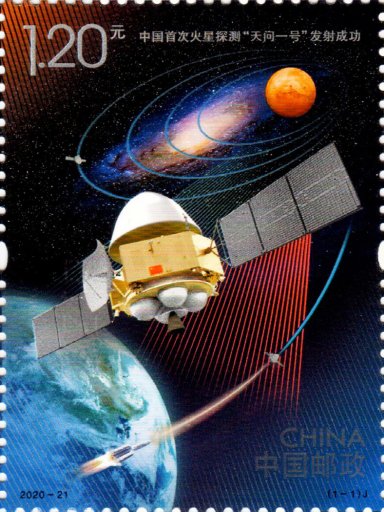 To make the contents of the stamp fuller and richer, China Post will release its digital contents through the WeChat mini program "the Encyclopedia of China Philately and Stamps", so that the viewers can watch the demo videos of Tianwen-1 probe exploring Mars by scanning the design with the AR function of the mini program.