China Post is to issue a set of 2 commemorative stamps entitled The Mascots of the Olympic and Paralympic Winter Games Beijing 2022 on January 16, 2020. The designs of the stamps are respectively named: The Mascot of the Olympic Winter Games Beijing 2022 and The Mascot of the Paralympic Winter Games Beijing 2022. The denomination of this set of stamps is 2.4 yuan.
The mascots of the Olympic and Paralympic Winter Games Beijing 2022 were officially unveiled at the Ice Hockey Arena of the National Winter Sports Training Center in Shougang Park, Beijing, on September 17, 2019. The mascot for the Olympic Winter Games Beijing 2022 named Bing Dwen Dwen - a giant panda-inspired cartoon character - resembles an astronaut, with the implied meaning of creating greatness and exploring the future, and the embodiment of striving for excellence, leading the times and facing infinite possibilities. Shuey Rhon Rhon, the mascot for the Paralympic Winter Games Beijing 2022, is a personification of a red lantern. Its color of "Chinese Red" plays up the festive atmosphere of China's Lunar New Year in 2022. Its glowing figure bears the meaning of lighting up dreams and warming the world, represents friendship, courage and perseverance, and showcases the philosophy of the Paralympic Winter Games that the fighting spirit of the Paralympic athletes will inspire and excite the world.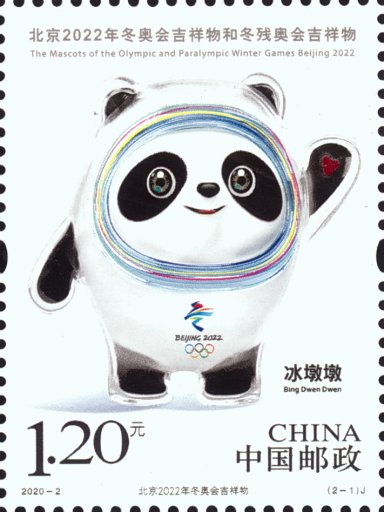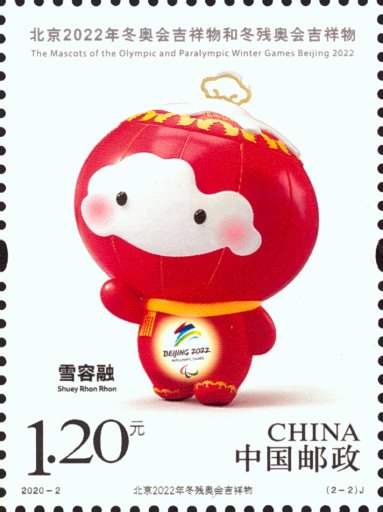 Simple and elegant, the overall design of the stamp has the strong contrast of the white background with the black and red color of the mascots, creating a fresh and bright visual effect. A total of 22 "BEIJING 2022" words appear on the white background of the two stamps, which aligns in design with the commemorative stamps Emblem of Beijing 2022 Olympic Winter Games and Emblem of Beijing 2022 Paralympic Winter Games issued in 2017, further enriching the details of the pictures and making the stamps more entertaining to watch.
The stamps are printed artistically, with vaguely engraved snowflakes on the sheet margins. At the same time, the stickers featuring Bing Dwen Dwen and Shuey Rhon Rhon are also placed on the margins to further create the romantic atmosphere of winter sports. In addition, a QR code is also printed on the sheet margin. Scanning the QR code, viewers can enjoy the wonderful video about this set of stamps. And more amazing videos about the two mascots can be enjoyed by scanning the stamps through the WeChat mini program "Encyclopedia of China Philately and Stamps".
The stamps are designed by Shi Yuan and printed with photogravure technology by Beijing Stamp Printing House.