China Post is to issue a set of two special stamps for the Year of Xinchou on January 5, 2021. The designs of the stamps are named "Striving to be Strong" and "Happy Year of the Ox" respectively. The denomination of the stamps is 2.4 yuan. The planned circulation is 44.6 million for the first stamp, 42.8 million for the second, 2.5 million for the layout 2, and 6.3 million stamp booklets.
The design of the special stamps of the Year of Xinchou continues the concept of "love for family and country" of the fourth round of zodiac stamps and the designer is the famous artist Yao Zhonghua. The special stamps vividly interpret and artistically display the spirit of zodiac ox "keeping feet on the ground, daring to work hard, pioneering and pushing ahead, staying diligent and dedicated" through the combination of movement and stillness, strength and warmth. The two stamps show the country's anticipations and family's expectations respectively, conveying strong New Year blessings. The first stamp, named "Striving to be Strong", depicts the image of a heroic, powerful, indomitable running bull. The image of the bull, with its four hoofs raised, head up forward, and eyes piercing, symbolizes that Chinese people forge ahead against all difficulties and strive to achieve the great national rejuvenation. The second one, with the name of "Happy Year of the Ox", depicts a heart-warming picture of the deep love between the mommy cow and the baby calf, and extends the best wishes for family prosperity, harmony and reunion to people all over the country.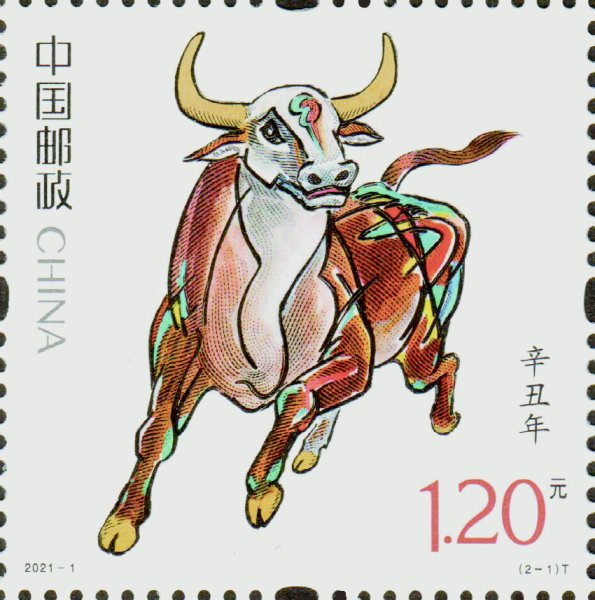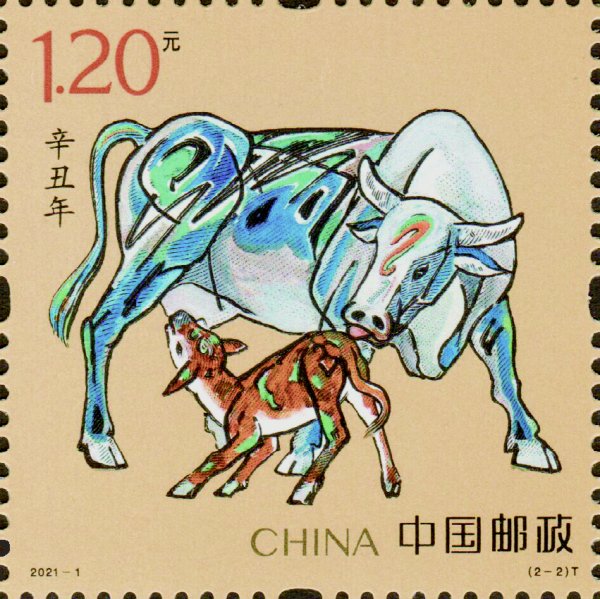 The stamp booklet of this set of stamps is designed by Wang Huming. It is printed by Beijing Stamp Printing House with offset intaglio technology and engraved by a young designer Liu Bo from Postage Stamp Printing Bureau. The details presented with offset intaglio technology are richer and more delicate, and matching with bright colors, the overall design appears elegant and solemn. The stamps adopt special anti-counterfeiting paper for zodiac stamps. The layout 1 uses ink-free engraving to present Chinese zodiac verses. The color offset printing frequency conversion technology and red phosphor anti-counterfeiting ink are both anti-counterfeiting and artistic.
The stamps are sold at designated postal outlets, philatelic online offices, China Post Mobile App and China Post WeChat post office's philatelic mall with a period of 6 months.
In order to display the zodiac stamps of the Year of Xinchou more abundantly, China Post will release digital contents through WeChat mini program "Encyclopedia of China Philately and Stamps". By using AR to scan stamps, you can watch wonderful animations, participate in interesting interactions, and great presents are waiting for you!