China Post is to issue a set of commemorative stamp (1 piece) entitled The Enforcement of the Civil Code of the People's Republic of China on January 1, 2021. The face value of this stamp is 1.20 yuan, and the planned circulation is to be 8 million sets.
This set of stamp is presented in graphic design with a clear theme and prominent key points. The main picture is red, with the solemn national emblem shining with golden light. The straight lines used around the design help create the visual effect of thick texts, emphasizing the seriousness and authority of the Civil Code, and strengthening the solemn effect.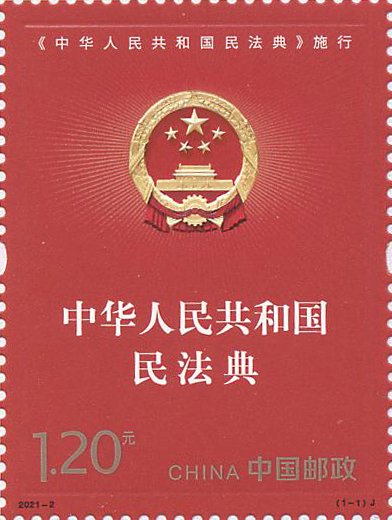 This set of stamp is designed by Xing Wenwei and printed by Shenyang Posts and Telecommunications Printing House of Liaoning Province through offset printing (partial embossing technology). To present more information about the stamp, China Post will release its additional digital contents through the WeChat mini program "Encyclopedia of China Philately and Stamps". When scanning the stamp with the AR function of the mini program, viewers can then enter a virtual exhibition hall, watch online theme exhibition and participate in the interactive treasure hunting activity.