On January 1, China Post is to issue 1 piece of commemorative stamp entitled RCEP Taking Effect with the denomination of 1.20 yuan and the planned circulation of 6.8 million sets.
The ASEAN Secretariat, the official depository for the Regional Comprehensive Economic Partnership (RCEP), released the announcement on November 2, 2021, that six member countries of the ASEAN, including Brunei, Cambodia, Laos, Singapore, Thailand and Vietnam, and 4 non-ASEAN countries involving China, Japan, New Zealand and Australia, had formally submitted their RCEP ratification, meeting the conditions for the deal to enter into force in those 10 countries on January 1, 2022. RCEP, as a modern, comprehensive, high-quality and mutually beneficial mega regional free trade agreement, is the most significant achievement of economic integration in East Asia in the past 20 years. Officially signed on November 15, 2020, RCEP has become the world's largest free trade zone with 15 member countries, accounting for 30% of the world total in regard to its total population, economic size and trade volume. The entry into force of the agreement will play a key role in further promoting regional free trade, stabilizing industrial and supply chains as well as boosting the high-level opening-up of China.
The set of stamp takes "RCEP", the abbreviation of Regional Comprehensive Economic Partnership, as the main element, with these four letters being composed of different blocks of colors. The background of the picture consists of simple and upward dynamic lines and is supplemented by such elements as building clusters and the Earth, symbolizing economic growth and urban prosperity, and implying that the entry into force of RCEP will have positive effects on its member states. The whole picture, in concise design, highlights its theme properly.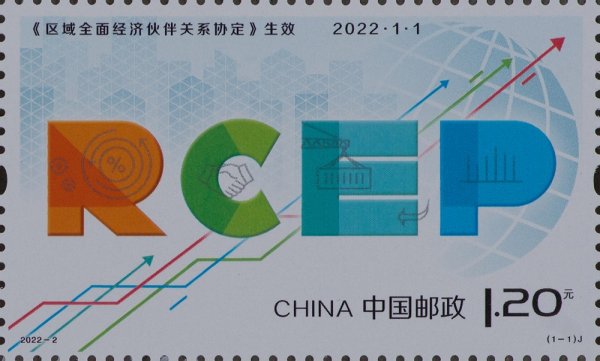 The stamp is designed by Yu Qiuyan and printed by Beijing Stamp Printing House Company Limited in photogravure technology.
The set of stamps will be available for 6 months at designated postal outlets nationwide, online mall of China Philately (https://jiyou.11185.cn), the mobile app of China Post, the WeChat Mall for philatelic products in the official WeChat account and the WeChat mini program of China Post Group. To present more information about the stamp, China Post will release the digital contents through the WeChat mini program "Encyclopedia of China Philately and Stamps", where philatelists can learn more about the stamp via its AR function.