China Post is to issue a set of seven special stamps entitled Natural World Heritage—South China Karst on April 28, 2022. The designs of stamps consist of Shilin Karst, Libo Karst, Wulong Karst, Guilin Karst, Shibing Karst, Jinfoshan Karst and Huanjiang Karst. The denomination of the stamps is 8.40 yuan, and 5.9 million sets of such stamps are planned to be issued.
China has the largest area of karst landforms in the world, distributing from tropical to cold temperate zones, from humid to arid areas. It also has the most comprehensive variety of karst landforms, which not only manifest miraculous landscapes, but also the complex evolution history of such landforms. South China Karst includes 7 karst clusters—Shilin Karst, Libo Karst, Wulong Karst, Guilin Karst, Shibing Karst, Jinfoshan Karst and Huanjiang Karst, and was inscribed on the Natural World Heritage List in 2 phases in 2007 and 2014.
Shilin Karst is in Shilin Yi autonomous county of Kunming city, Yunnan province. Composed mainly of karst landscape and famous for its magnificence, uniqueness, dangerous terrains, elegance, secluded environment, mysteriousness, and vastness, Shilin is the world's only karst landscape in the subtropical plateau region and has the most peculiar karst landform, thereby enjoying a high reputation in the field of geoscience in the world.
Libo Karst, located in Libo county of Guizhou province, is characterized by its fengcong (cone) and fenglin (tower) karst formations. There are concentrated indigenous karst forests in the area. With dense woods and running streams integrated with the mountains, water, caves, waterfalls and rocks created by karst landform, this area embraces special karst forest ecosystem and significant biodiversity.
Located in Wulong district of Chongqing municipality, Wulong Karst comprises three independent karst zones: Furong Cave, Three Natural Bridges and Houping Giant Doline (Houping Tiankeng), among which the three natural karst stone arch bridges—Tianlong bridge, Qinglong bridge and Heilong bridge are the largest natural bridge cluster in Asia.
Located in Yangshuo county, Guangxi Zhuang autonomous region, Guilin Karst is typical of fenglin and fengcong karst landforms, and boasts internationally acclaimed fenglin riverine landscapes. The vast area, beautiful shape, height and density of fenglin in Guilin rank first in the world. Together with the imposing stalagmites, stone columns and stalactites in caves, the picturesque landscapes of Guilin are formed featuring magical mountains, enchanting rivers, bizarre caves and magnificent rocks.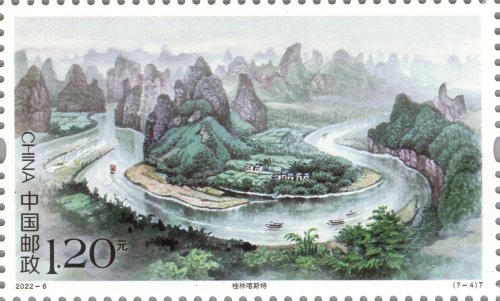 Shibing Karst is in Shibing county of Guizhou province. With steep mountains and towering peaks, it shows the unique and spectacular fengcong landscape of dolomite karst in tropical and subtropical zones, and fills the gap of dolomite category in the evolution of South China Karst.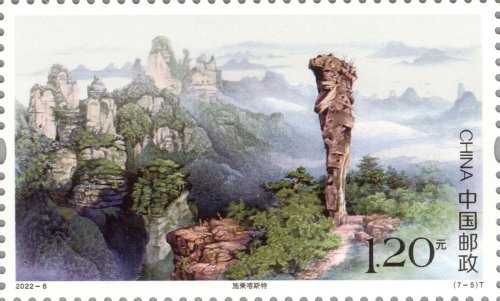 Located in Nanchuan district of Chongqing municipality, Jinfoshan Karst has magnificent mountains and charming scenery. It is well known for its typical karst table mountain, ancient high-altitude caves, colorful surface karst landscapes, rich biodiversity and ancient Natrii Sulfas preparation history, which makes it unique in South China Karst, but also tops the karst table mountains in the world.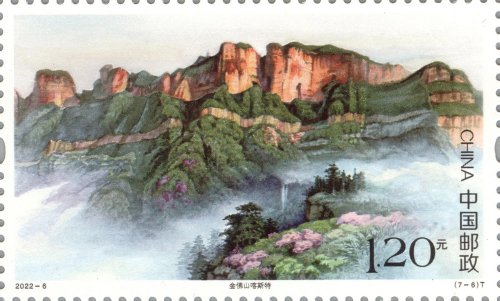 Situated in Huanjiang Maonan autonomous county of Hechi city, Guangxi Zhuang autonomous region, Huanjiang Karst contains outstanding fengcong features and is a karst region in which survives the largest, most intact and most pristine karst forest in the world. Huanjiang Karst is a natural extension of Libo Karst. Together the two sites preserve the complete transition from plateau karst to low mountain and fengcong karst, and reflect a complete and unique karst evolution process, thus possessing immeasurable aesthetic and scientific value.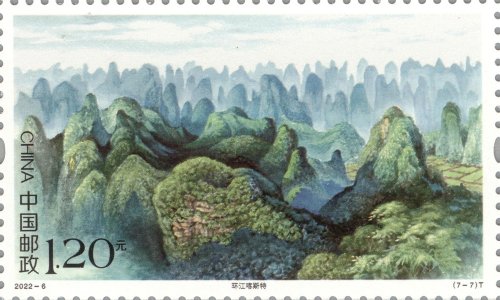 Designed by Yang Wenqing, the stamps adopt western-style painting techniques. While highlighting the characteristics of South China Karst, appropriate artistic exaggeration and trade-offs are made to ensure the compliance with the rules of science and the aesthetics as well. Full in composition, rich and harmonious in colors, and magnificent in sights, this set of stamps present the unique natural beauty of South China Karst.
The stamps are printed with photogravure technology by Beijing Stamp Printing House Company Limited. The six-color high screen ruling printing facilitates the full presentation of the features of South China Karst and the reconstruction of the original painting style. With bi-colored anti-counterfeiting fluorescence ink of yellow and red, the pictures of stamps become more vivid and three-dimensional when observed under ultraviolet light.
The set of stamps will be available for 6 months at designated postal outlets nationwide, online mall of China Philately (https://jiyou.11185.cn), the mobile app of China Post, the WeChat Mall for philatelic products in the official WeChat account and the WeChat mini program of China Post Group. To present more information about the stamps, China Post will release the digital contents through the WeChat mini program "Encyclopedia of China Philately and Stamps", where philatelists can learn more about the stamps via its AR function.