China Post is to issue philatelic products entitled Dongting Lake on May 28, 2022, which consist of 4 pieces of special stamps in one set and one souvenir sheet. The denomination of the whole set of products is 10 yuan. 6.6 million sets of stamps and 5.9 million souvenir sheet will be issued.
This set of stamps are designed by Xu Li, vice president of the China Artists Association, with oil painting techniques to show the representative landscapes of the Dongting Lake. The first picture portrays the beauty and elegance of the emerald Junshan Island. The second picture, composed of the Lingyun Pagoda and wetland scenery including water plants as well as flying birds, shows the sound ecology of the Dongting Lake. The third picture depicts the Chengtoushan ruins where there exists the most ancient and best preserved rice paddy site of its kind ever discovered in the world, which reflects the long prehistoric civilization of the lake area. The fourth picture displays the splendor of Sanjiangkou, the Dongting Lake's entrance into the Yangtze River, where a great many barges are vying forward on the broad water. The souvenir sheet depicts the wide-angle picture of the Dongting Lake with the Yueyang Tower, the vast water and green trees that underscore the profound cultural heritage and breathtaking scenery of the lake area.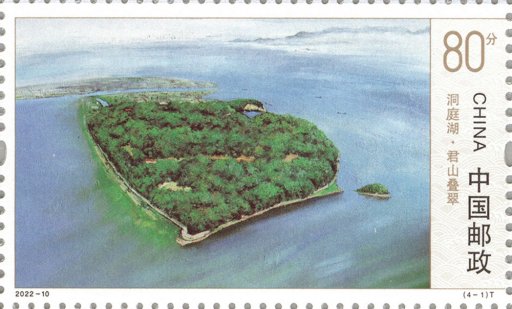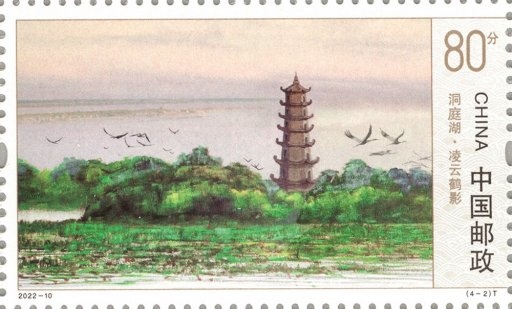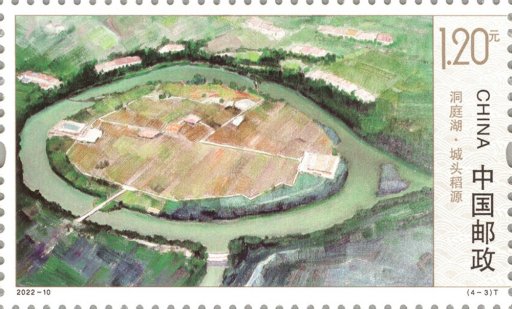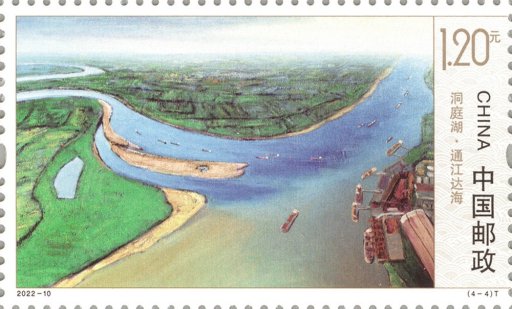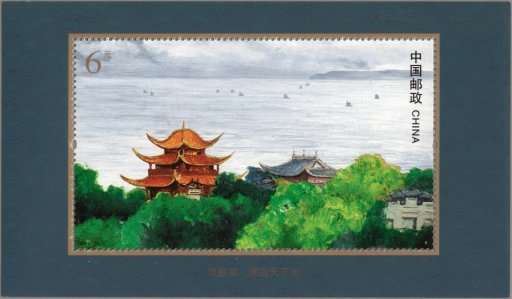 The stamps are printed by Beijing Stamp Printing House Company Limited. The offset printing technology makes the overall colors saturated and bright, and the colorless white fluorescent ink makes the lake water appear clearer and more glamorous under ultraviolet light. The souvenir sheet is printed with photogravure technology, which helps enrich the layering of the design and make the colors even brighter; while the pearlescent blue spot-color printing not only enhances its sense of reality, but also conduces to the anti-counterfeit efforts; and the colorless fluorescent ink enables pearlescent blue color to produce white fluorescence and red color to produce red fluorescence, which further contributes to the vivid presentation of elegant lake and architecture.
The set of stamps will be available for six months at the designated postal outlets nationwide, online mall of China Philately (https://jiyou.11185.cn), the mobile app of China Post, the WeChat Mall for philatelic products in the official WeChat account and the WeChat mini program of China Post Group. To present more information about the stamps, China Post will release their digital contents through the WeChat mini program "Encyclopedia of China Philately and Stamps", where viewers can learn more about the stamps via its AR function.