China Post is to issue a set of one-piece commemorative stamp on July 23, 2022 for the centenary of the adoption of the first Constitution of the Communist Party of China (hereinafter referred to as the first Party Constitution). The denomination of the stamp is 1.20 yuan, and the planned circulation is 6.8 million sets.
The Second National Congress of the Communist Party of China (CPC) was held in Shanghai from July 16 to 23, 1922. Twelve delegates attended the congress, representing the 195 CPC members nationwide. The congress explicitly put forward an anti-imperialist and anti-feudal program for democratic revolution, which pointed out the direction for the revolutionary struggle of the Chinese people of all ethnic groups; it also formulated and adopted the first Constitution of the Communist Party of China. Consisting of six chapters which include twenty-nine articles, the Party Constitution stipulated in detail the qualification and procedures for Party membership, specified the organizational principles, organizational structure, and disciplines and system of the Party, and reflected the principle of democratic centralism, thus bearing great significance in the self-improvement of the Party. The adoption of the first Party Constitution marks the final completion of the CPC's creation of its political program, theory and organization. From then on, the CPC had its own foundation and highest code of conduct, and the cause of the Party moved towards a broader new ground. The first Party Constitution, now collected in the National Archives Administration of China, is the only copy extant.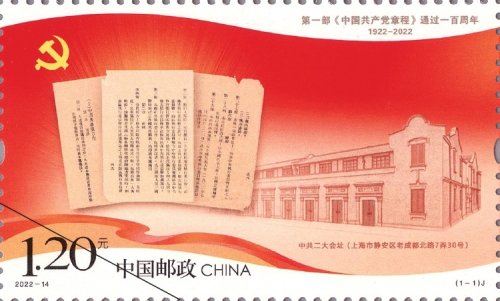 The stamp is designed by Zhang Fan with graphic design and hand-drawn sketch. Taking the Party emblem, selected chapters of the first Party Constitution and the site of the Second National Congress of the CPC as the main body, a fluttering Party flag as the background, and using gradient colors symbolizing the sun is rising in the east, the whole picture implies that the dawn of revolution is shining on China and illuminating the road to the future, and vividly reflects the glorious course of the Party in uniting and leading the Chinese people to work tirelessly and the great achievement thus made.
The stamp is printed by Beijing Stamp Printing House Company Limited with offset technology.
This set of stamp will be available for 6 months at designated postal outlets nationwide, online mall of China Philately (https://jiyou.11185.cn), the mobile app of China Post, the WeChat Mall for philatelic products in the official WeChat account and the WeChat mini program of China Post. To present more information about the stamp, China Post will release its digital contents through the WeChat mini program "Encyclopedia of China Philately and Stamps", where philatelists can learn more about the stamp via its AR function.