On December 25, China Post is to issue a set of four commemorative stamps entitled China's Space Station. The pictures of the stamps are named as Space Transport System, Space Science, Extravehicular Activities and Home in Space respectively. The denomination of the whole set of stamps is 5.40 yuan. And the planned circulation is 8 million sets of such stamps and 1.1 million sheetlets (layout 2).
The stamps are designed in a se-tenant form, and take dark blue as the dominant hue, reflecting the mystery and vastness of space and manifesting the glorious and dream-realizing course of China's manned spaceflight project in moving from planet Earth to the vast cosmos over the past 30 years via the four images of the stamps.
The first stamp is called Space Transport System. It shows the soaring Long March 5B heavy-lift rocket in its foreground, and in the background the three types of rockets used in launching manned spaceships, cargo spacecraft, the core module and other modules during the construction of the Chinese space station, as well as a ship and a radar for Telemetry, Tracking and Command ( TT&C) and a return capsule of the TT&C satellite.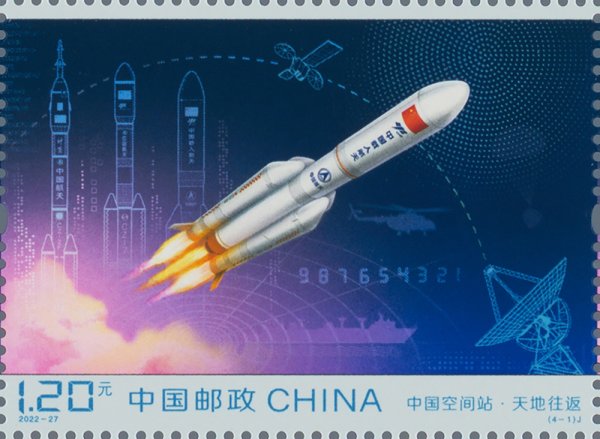 The second one is Space Science. It presents in the form of icons different types of space science experiments such as space life science, microgravity combustion science, microgravity fluid science, space astronomy and astrophysics.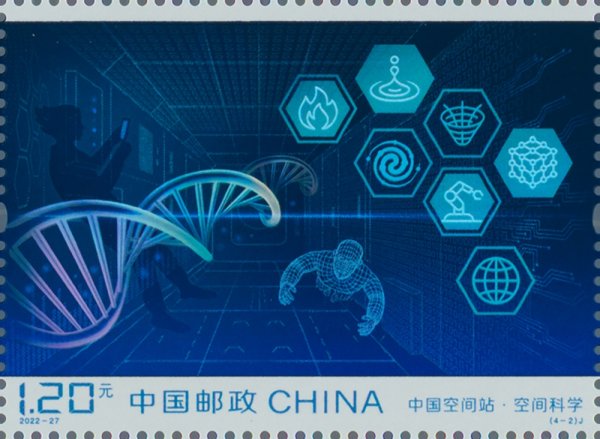 The third one is Extravehicular Activities. It depicts two taikonauts entering space to carry out extravehicular activities, like extravehicular operations on the robotic arm and the outer wall of the spacecraft.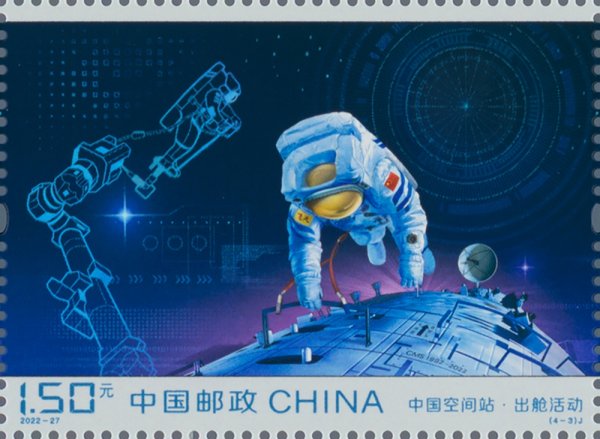 The fourth one is Home in Space. It takes the Chinese space station circling the earth as the main body and presents the vast and boundless space with strong visual impact, implying China's aspirations to boost its strength in aerospace, build a home in space, and explore the unknown universe, and pinning on China's good wishes for the peaceful use of outer space and for the open and shared development for the welfare of humanity.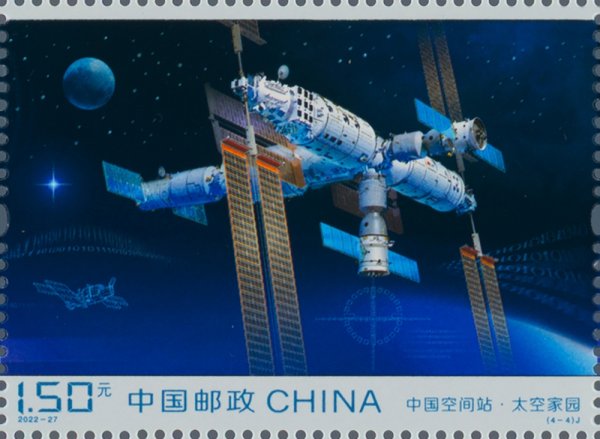 The set of stamps will be available for 6 months at designated postal outlets nationwide, online mall of China Philately (https://jiyou.11185.cn), the mobile app of China Post, the WeChat Mall for philatelic products in the official WeChat account and the WeChat mini program of China Post Group. To present more information about the stamps, China Post will release the digital contents through the WeChat mini program "Encyclopedia of China Philately and Stamps", where philatelists can learn more about the stamps via its AR function.